Is it okay to call Larry Poons an Abstract Expressionist? I'm not sure. He's been around so damned long it's hard to say what he should be called -- he's outlived more movements than most people get to see in their lifetimes. I'm going to go ahead and call him an Abstract Expressionist because that's what he's doing now, I believe. If you see his most recent show at Danese and don't agree, well, you're blind. It looks to me like he's gone all the way around and back again and here he is, about 72 years old, not only still kicking but still working, and not only still working but still working at six feet by six feet, and working every inch of that canvas.
I won't say that the show bowled me over. But I was affected a lot more than I expected to be. Larry has that in common with Jackson Pollock, too -- I never expected Pollock to do much for me, but when I finally saw his work in person, wow, it knocked me back. Larry didn't hit me that hard, maybe because I don't sense that laser-like intensity of focus; rather, Larry's more meandering, questing. Maybe that's just because he's made it a lot farther than old Jackson ever did.
But I'm leading off with Pollock and Abstract Expressionism because Larry's latest show is rooted in that tradition. The works in this show are all large, all-over, tactile, almost scultped, and best viewed from that sweet spot where the painting just fills your field of view. Stand there and the world of the painter opens up to you. It's a world, in this case, filled with tentative marks, mostly right-handed dabs and strokes, mostly low-chroma, fleshy colors. The texture varies from mere stains on the canvas all the way up to thick oozing strokes, from grainy crumbles of nearly pure pigment to gluey translucent strands of almost pure acrylic gel. Every so often Larry dips into the brighter hues, whipping out a pink close to fluorescence or a deep sapphire blue.
Larry Poons at Danese, 2009, installation view: Check out the staple!
Looking more closely at the work you can see some of his methods. It's clear in some cases he ended with the same canvas he began with; the edges are neatly taped off. In other cases he's working in the time-honored Color Field tradition of cutting smaller pieces out of larger canvases; the paint heads off and around the back of the stretchers. I assume from this that he works on unstretched cotton duck and only mounts the paintings later. Another tradition he adheres to is that of the messy studio: I found a loose staple dried to one of the paintings. Some future conservator's going to have fun with that, gluing it back on periodically.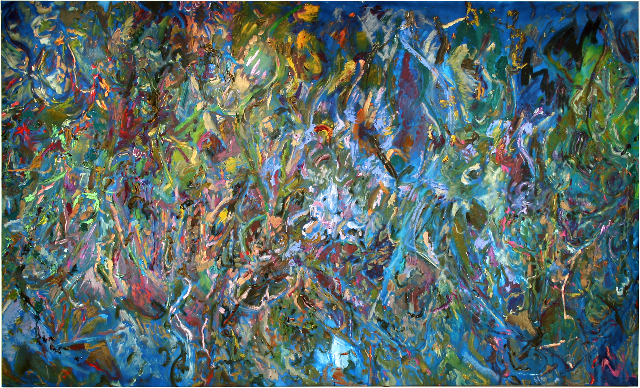 Larry Poons, Calling You, 2009, acrylic on canvas, 67.25x114 inches
Danese thoughtfully didn't have anyone showing in the smaller spaces off the main gallery. I'm not sure anyone would want to compete. This also allowed the gallerist to set one painting aside to stand by itself in a small quiet space. Amid the hubbub of the opening, this was like a little chapel, where visitors, perhaps sensing the atmosphere, only went in two or three at a time. And there is the best work in the show, a lovely, lyrical painting called
Calling You
.
Unlike the other paintings in the show, Calling You isn't painted on raw canvas, but instead is based on an underpainting of ultramarine. Ultramarine was once upon a time the most expensive pigment in the world, not just because of its rarity, but also because of its clear, ringing beauty. During the Renaissance it was often reserved for the gown of the Virgin Mary. Here Larry has used it as a powerful foundation, keeping this painting from quietly humming to itself like the others -- instead it sings. Across the field of blue his strokes play freely -- I'm mixing metaphors here. It's really not something to be described, only, as the best art should be, experienced.
If I say the show didn't bowl me over, that's all together; Calling You all by itself is absolutely fantastic. Make the trip to Danese for that alone.
Some people talk as if past art movements and styles are settled, done, and dead. But on the wall they're just as alive as we want them to be. It takes someone like Larry Poons to come along and show us that truth.
[Note: I'd like to thank Alexandra Woodworth at Danese for getting me the JPEG and details for "Calling You".]