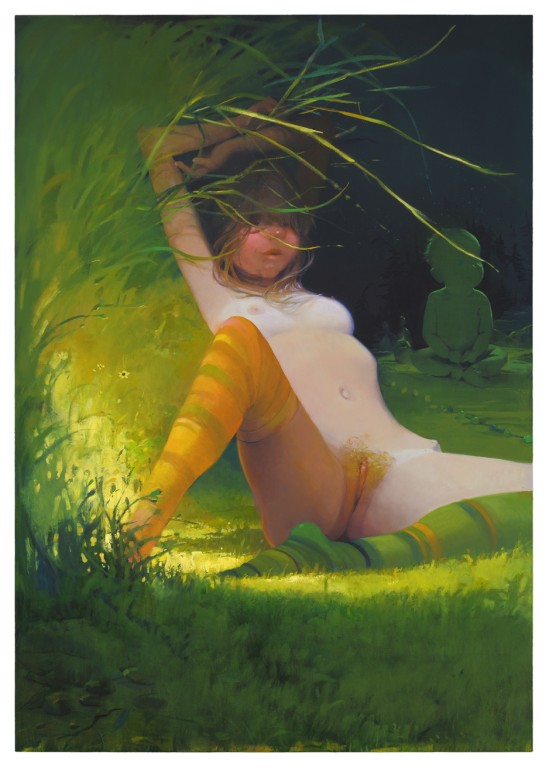 Lisa Yuskavage, Reclining Nude, 2009, oil on canvas, 72x51 inches
When I read that Lisa Yuskavage was having a new show at
Zwirner
(February 19, 2009 to March 28, 2009) I looked forward to seeing what she was up to. I liked Lisa's work. Several years ago I'd made a trip down to Philadelphia specifically to see her first solo museum show there. But since then I hadn't seen any of her paintings in person, or anyway not many. So I thought I'd enjoy her latest show.
I don't know if, over the past few years or so, I've become more demanding or Lisa's gotten worse. But, damn, these are some crappy-ass paintings. They look like color studies for some triple-X animated feature, like pre-production work for some awful Ralph Bakshi abortion. Each one is slipshod from start to finish, as if she threw them together at the last minute. And since Zwirner's gallery runs the length of the block, I found it telling that most of the space was closed -- did she not have enough work? What's she been doing since her last show?
Lisa still has a nice line at times, some curvy forms which, in another context, might pass for what's often called "sensuous". But here it's put in service of content so puerile, technique so desultory, and composition so lifeless, it's completely wasted. The series of paintings here is almost autistic in its obsessive repetition, except no autistic person would ever browbeat anyone so mercilessly with their desire to be accepted. This collection of paintings nearly whimpers in its asking to be loved for the tricks that worked so well in the past; overall it's not so much shocking or outrageous as it is pitiable and sad.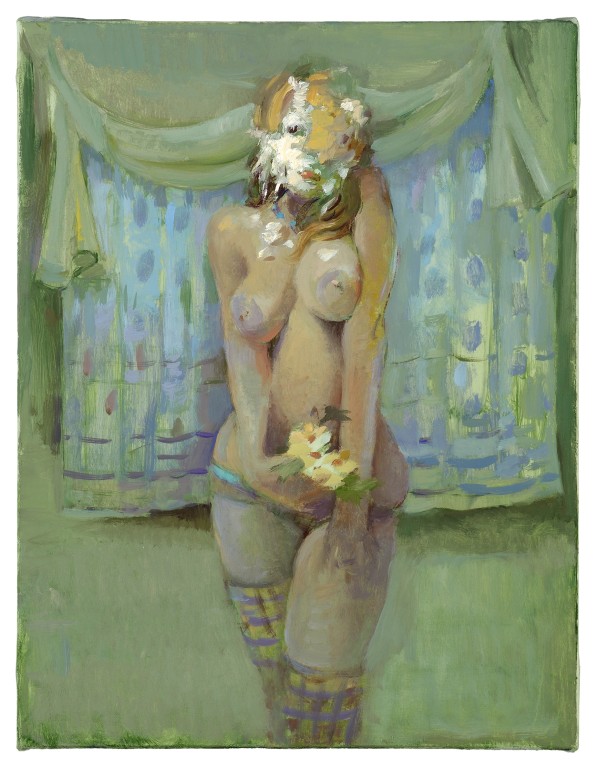 Lisa Yuskavage, Pied, 2008, oil on canvas, 11.75x9 inches
I get the same whiff from Lisa's paintings as I do from John Currin's, namely that of a painter elevated to stardom before they had any idea what they were doing. Now she's groping around trying to figure out what to do next --
giant babies in harsh locales?
Fat vulvas in flooded rooms?
Twats as landscapes?
-- without having the slightest idea what got her where she is. Particularly disingenuous are the few "pie face" paintings here: Is it whipped cream? Is this bukkake? Maybe it's supposed to be an attempt to stir up controversy, but the only contoversy I see is why such sophomoric content and hamfisted technique is left out where people can see it.