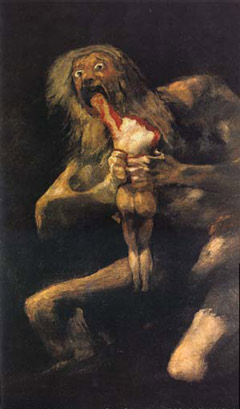 Francisco de Goya y Lucientes, Saturno devorando a un hijo, 1821-1823, técnica mixta, 143x81 cm
The economic downturn -- a phrase which has its own macro on most pundit keyboards these days -- has caused many people to predict a new era of creativity as Darwinian pressures on businesses and individuals force innovation in the struggle to survive. With art galleries closing left and right, and the remaining dealers feeling the squeeze, creative means of making money are cropping up in the art world.
Unfortunately some of the creativity is geared towards wringing even more money from artists, not gallery customers. Lyons Wier Gallery -- until recently Lyons Wier-Ortt, and when we find out what happened to Anna Ortt, we'll let you know -- Lyons Wier, for example, announced recently something owner Michael is calling "Art Bazaar", where artists can pay him $20 to sit in his gallery all weekend in front of six feet's worth of their stuff. I thought this sounded like a pretty cool deal until I realized that he's just sucking money from his (potential) work force, kind of like McDonald's charging their fry cooks for the privilege of selling their wares.
Meanwhile Ceres Gallery -- which has always struck me as a questionable space -- is bringing "back by popular demand" their Exposure "show" where artists can basically rent out a tiny part of Ceres for a week at a time between November and December for only -- only! -- $250.
And then there's Smack Mellon which is using traditional oil painters as fundraising workhorses paying a pathetic $125 per half-hour per painting, which is a less than a professional portrait painter would make for simply taking a client's call.
Smack Mellon is something of a special case since it's not a for-profit gallery, and Ceres is some sort of non-profit co-operative kind of thing; to Lyons Wier and other galleries like them we could say that, rather than creatively finding ways of exploiting artists they should perhaps simply be doing their jobs of selling better. That is, after all, how real businesses go about raising cash: By trying to sell more stuff. Smack Mellon and Ceres aren't forgiven, though; as organizations ostensibly founded for improving the lives of artists, they should be getting their funding from elsewhere, not living off the backs of those they claim to be helping. The Second Great Depression is no excuse for eating your own young.
[Links and discussion from Stephanie Jackson, Sharon Butler, and Joanne Mattera.]