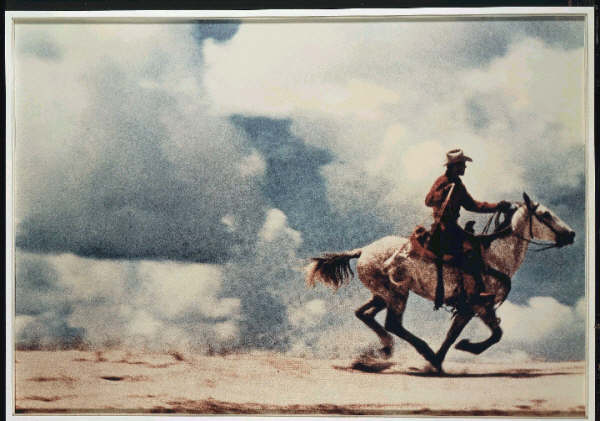 Richard Prince's cowboy crap
Associated Press reports that the Tate Modern has shut down an exhibit of Richard Prince's Spiritual America which includes a photo of a photo of a nude ten-year-old Brooke Shields.
Never mind that this image of Prince's is about thirty years old. Never mind that it's a photo of a photo. And never mind that a quick Google search will turn it up. In fact, let me Google that for you. British police have decided that now it's a bad photo.
And good god they're right. But why did it take the police to shut down Prince's show? Wasn't there anyone else in the museum hierarchy who could see that this guy's work sucks? That anything would be an improvement over a Prince show? That it would be better and more edifying for the public if they left the rooms at the Tate Modern empty and let visitors stare at blank walls? That once an artist has stooped to child porn to keep his stock afloat, as Prince did 26 years ago, he's irredeemable?
Shutting the show down because they don't want to cause offense to their visitors? How about not giving that crap house room in the first place? I'm offended and I've never even been to England, let alone the Tate Modern. I don't even have to set foot in the damned place to be offended. It's a sad fucking day when I'm on the side of the jackbooted thugs, but hearing that anyone anywhere is still displaying Richard Prince's efforts is almost enough to make me want to join al Qaeda. Stick a fork in it -- clearly Western Civilization is done.