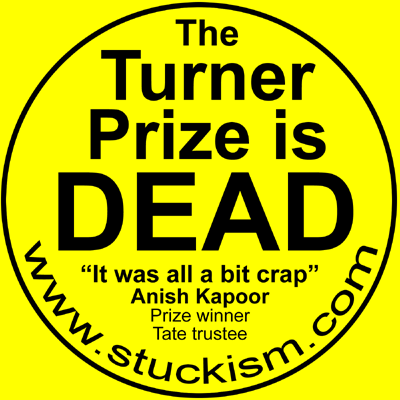 The Stuckists Badge
Artinfo reports that the Stuckists showed up at the Tate denouncing the Turner Prize. I don't know much about the Stuckists except that their L.A. contingent's Website sends a lot of traffic to my post on John Currin. Looking them up again I find the original Stuckist manifesto and I find, much to my surprise, that I agree with them. "Artists who don't paint aren't artists"? Hell yeah! "Art that has to be in a gallery to be art isn't art"? Testify!
And anyone who gets yelled at by Tracey Emin is my favorite person in the whole world. Because, really, she's terrible. So Billy Childish, I love you.
We should all join with the Stuckists in denouncing the Turner Prize. What junk. This makes me long for my old days of cranking out propaganda on the photocopier. Maybe I should stage something outside the New Museum.