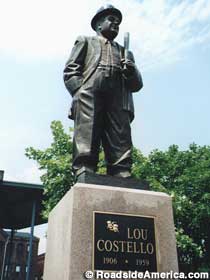 Lou Costello memorial statue in Paterson, NJ
This blog is ostensibly about fine art and I try to keep it on that topic as much as possible. But I do make occasional forays into other areas, as all three dedicated readers have certainly observed, and I intend to do so again now.
When it comes to fine art, to art that proposes to place itself with the greats of the past -- Rousseau, Van Gogh, Leonardo and Titian -- I'm very hard to please. So were they. That's part of how they got there, by demanding the very best of themselves and the art they looked at.
But when it comes to other things, less pretentious things, I'm not so hard to please at all. In fact I'm like a kid. And one thing I simply enjoy is weird stuff. You know what I mean: The kind of thing where somebody decides to collect garden gnomes and display them all in their front yard. Or some bored automotive welder sculpts a robot-like man out of exhaust pipes.
It seems to me to be a peculiarly American trait to have a vision and see it implemented, whether that vision is intermittent wiper blade motors or wiry towers of scrap rebar. I have a soft spot in my heart for those endeavors, the little invention that could or the crazy structure. I love the idea of people who just forge ahead with whatever's in their head whether it makes sense or not.
It may be because of Mr. Trombino. He lived down the street from me when I was growing up in Staten Island, New York. I found out years later that he was a retired shop teacher; he'd retired before I was born. I met him when using his yard as a path from an empty lot to my best friend's house. My friend's house, like most of the houses in the neighborhood, was set close to the sidewalk with a small front yard and a large back yard. But Mr. Trombino and his wife lived in the old carriage house that served the estate which was eventually broken up and sold into lots. So his house was a small set of rooms attached to an enormous barn set all the way at the back of the property. Mrs. Trombino was in charge of gardening beds of flowers in the yard and Mr. Trombino spent his days coming up with things he wanted to make and making them.
When I first met him his line was in fish mobiles. He'd make these large fanciful wooden fish, maybe three feet long, maybe ten, or anywhere in between, out of wood. He'd paint them or varnish them or whatever looked good at the time, find the point at which he wanted to balance them, and hang them from the trees in his vast front yard. As they decayed in the weather he'd take them down.
He was always restlessly working on something. When I'd come by to visit he'd show me what he was doing and some days he'd have something in a box by the door for me. He gave me my first book of Arthur C. Clarke short stories and my first book of Robert Heinlein short stories. He gave me a tetrahedral puzzle. Once he handed me a transistor taped to a card, and he explained to me what it did.
Over the years I'd stop by and see what he was doing every so often. The last time I spoke to him he had built a skeletal framework, painted it pink, and hung various things from it, including a bowling ball. I remember saying it must've been tough to drill a hole in a bowling ball but he said it wasn't, you just needed to go slow.
He died a few years ago. My parents finally moved out of the neighborhood, so I don't know if Mrs. Trombino is still there. The Trombinos are the kind of neighborhood treasure that passes unremarked, remembered only by those who knew them. There won't be a monument to Mr. Trombino; his works haven't been preserved; I wish I could go back and pay more attention this time, but that's life.
So I have a soft spot in my heart for people across this great land of ours who see something lacking in the world around them and go ahead to create it. The World's Largest Ball of Twine. Mount Rushmore. Muffler Men (and men made of mufflers).
I would never demean these people by calling them artists. That would be an insult to their intentions. They don't desire fame or money, power or influence. All they want is to do what they want to do. They are what makes this country great.
And now you too can find them, and many other things besides, thanks to the fine folks at Roadside America. Yes, we've reached the shameless plug section of the article. But I'm plugging shamelessly for the app developer, Joe D'Andrea, because he's really a great guy and a good friend, and his app is bound to be excellent. (Also you should check out Joe's band Broadside Electric, whose site is the best use of Dover Clip Art since Saul Chernick.)
Joe developed Roadside America for iPhone, an app which allows you to easily look for interesting, offbeat attractions near your location. I'll never use it because I never travel anywhere, but I can see how it'd be useful. Hop in your RV and wander the highways and byways of these United States and never grow bored. I mean, the Oasis Bordello Museum in Idaho? The Broken Angel House in Brooklyn? A 33-foot Virgin Mary in Ohio? All there!
You won't find Mr. Trombino on that app, but you can find his spiritual successors. Tell them you love them.